Pro-life march draws a response
"Hey, Obama, take a stand.
Free abortion on demand."
A telling chant offered up by a small group of pro-choice protesters who gathered outside Planned Parenthood in Rochester February 28. (I have a strong suspicion for whom most of them voted - those who were old enough to vote, anyway.)
The mostly young - and largely male!? - group of about 30 were there to try to counter the more than 100 pro-life marchers who processed from Our Lady of Victory Church to Planned Parenthood through the cold (18-20 degrees) and the light snow of downtown Rochester in relative silence (well, as silent as you can get with a group that included children and people who actively greeted people on the streets). The march came after a Mass that packed the small church, and it ended with people praying the rosary and singing hymns.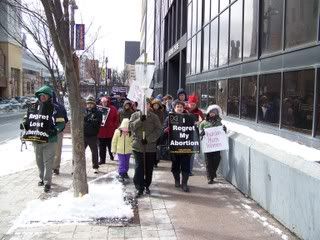 There were anti-religion and anti-Catholic type chants and stereotyping in some of the slogans the pro-choicers kept repeating as they tried to drown out praying pro-lifers. I wonder if some of them recognized that they were trying to overcome prayers.
Indeed, one chant from the pro-choicers began, "Tell your church ... " suggesting that they do not view themselves as part of the church and that those involved with church are pro-life. Wonder what pro-abortion Catholics would say to that?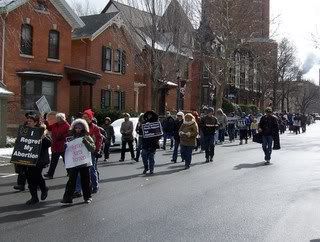 And then there was the ironic little ditty that went "Pro-life, that's a lie, you don't care if women die" yelled at a group that included women who'd had abortions and now regretted it, women and men who help the surviving victims of abortion - the mothers and fathers who had lost their unborn children - people who have taken in and supported pregnant women, people who have supported and volunteered at agencies that help women and children, and so many more.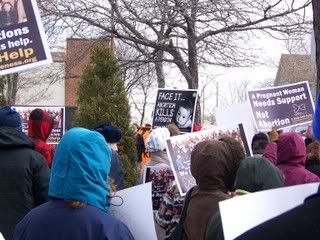 One pro-lifer commented that this is the first time in recent years that the pro-choice crowd had attempted to respond to praying pro-lifers (many of who are veterans of last fall's 40 Days campaign and of a smaller march last October) here in Rochester. She suggested that we are beginning to worry them.
Worry? They have nothing to fear, unless they are afraid that they might being to see the horror of what they are supporting
As for us, some of our prayers were for them. And they were said with love - not chanted with anger and fear.
Labels: pro-life