Valentine's Day - at the abbey
It's Valentine's Day, so that means the good-looking-one and I went off ... to a church.
In this case, Our Lady of the Genesee Abbey - Trappist, and the home of Monks Bread.
We went into the chapel to pray for a while.
abbey chapel -
lingering incense
and silence
Well, there was silence until ...
a sprightly tune
echoes through the chapel -
someone's cell phone
The phone wasn't really a bother. Later, a woman brought in her children, and they were very quiet and respectful - nice to see.
After, we bought some bread (of course), and the good-looking-one visited with Mary for a few moments.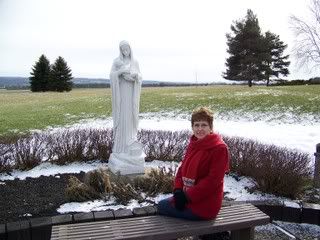 Then off to lunch and home.
Maybe that's not everyone's idea of Valentine's Day, but for us, it was quite nice.