A Night of St. Therese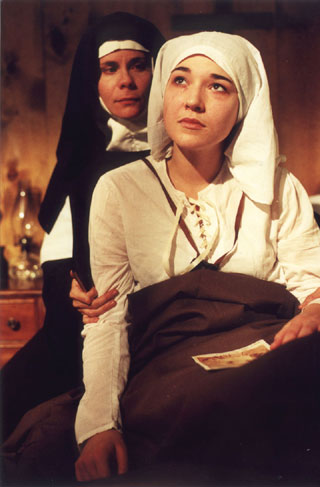 It being two days after the Feast of St. Therese, and both being tired from long weeks, I suggested last night that the Good-Looking-One and I watch Therese - Leonardo Defilippis' movie about St. Therese of Lisieux.
I was in the right mood for it last night, so I enjoyed it even though it is not one of my favorite hagiographies. It's a flawed movie - the definitive English movie about her life has yet to be made - but a sincere effort. I wish it had done more to explore her spirituality. I've heard that Cavalier's 1986 French film does more of that, but I haven't seen that one.
St. Therese is one of those saints I've always had a hard time getting a handle on. (Certainly not her fault! More likely a blind spot in my own spiritual character.) But so many people I respect have praised her and her Little Way that I keep coming back to her.
Ah, but tonight is the Transitus of St. Francis. After a visit to Planned Parenthood this morning to pray for an end to abortion, then an afternoon at the Hilton Apple Fest with the Good-Looking-One, maybe viewing one of the Francis films we own tonight? Hmm - which one?