Grave Concern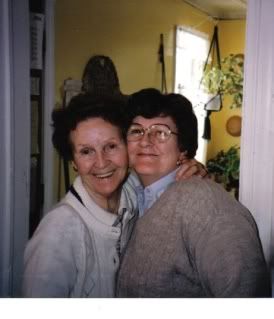 On Monday, the Good-Looking One and I went down to the Trappist Abbey of the Genesee (home of Monk's Bread!), one of our favorite places to go for silence, prayer and contemplation.
Oh, and to pick up some bread.
On the way back, we stopped at the graves of my mother and grandmother (they share a headstone). They are buried in Caledonia, I live in Rochester. I rarely have reason to go that way, and, to be honest, I'm not a "grave" person by nature. I figure they are in heaven (or are on the way), and their bodies are, well, just their bodies.
But as I looked about, I saw that other graves had signs of care and visits. Flowers, flags, figures.
I felt sad. Mom and Nana's headstone looked forlorn. Unloved. I started thinking of the way I had been in life with them. (Mom and I in particular had a difficult relationship.)
Today, I took some plastic flowers, a small vase, and the figure of an angel with a bird on its finger to decorate the grave site. I said a couple of prayers for them.
I asked them to pray for me. And to forgive me for the times I neglected them.
I will go back more often. I will keep them in my prayers. It's the least they deserve for all their love and sacrifices for me.