Our Lady of Fatima Shrine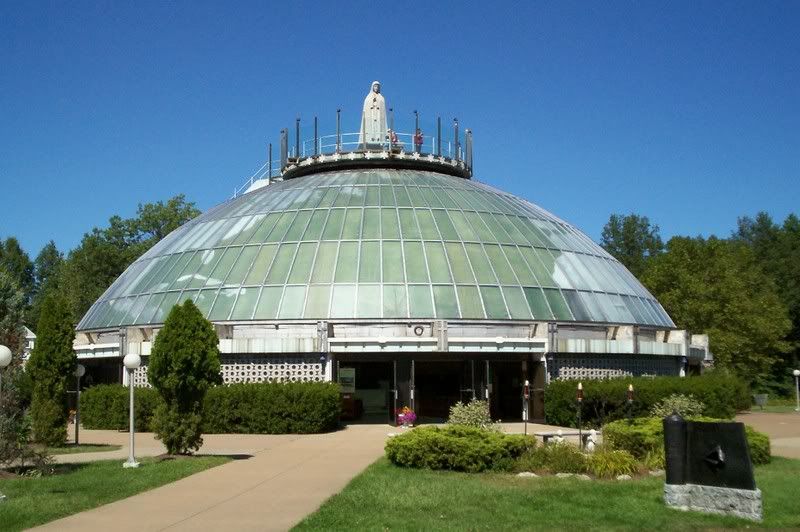 I don't recall when we first went to Our Lady of Fatima Shrine in Youngstown, N.Y. I know my family went when I was a kid. When I had children of my own, we began going about once a year.
One thing I always enjoyed was the obvious devotion of so many of the people there.
Something else. We went to Mass there yesterday, and I looked around. There were Indians, Filipinos, Asians, and members of other ethnic groups in the pews. There were developmentally disabled people, and people with canes, walkers and in wheel chairs. It was a microcosm of the Universal Church.
I've also always enjoyed strolling the grounds, viewing the basilica (above), and the many statues on the grounds.
Among those statues are a lovely display of Mary and the children (yes, that's my wife in the picture, too).
I also always liked going on top of the basilica (where there is a statue of Mary), and looking out over the complex, including the Rosary pool.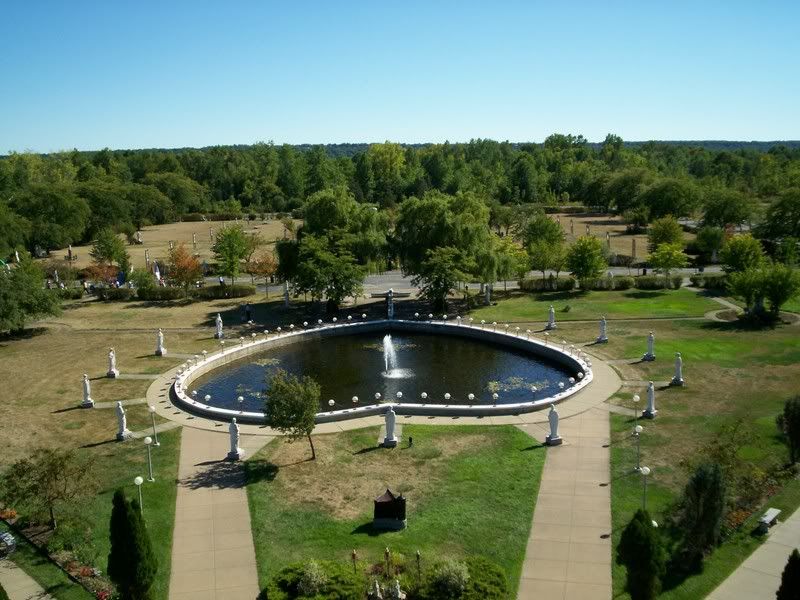 Inside the basilica is a Peace Mural by Joseph Slawinski. Yes, it does include a mushroom cloud helping to show the consequences of lack of peace. It also includes in its middle section a pregnant woman - the promise - and on the right side the results of a world at peace.
In the main building is the original Chapel of Our Lady of Fatima Shrine.
Out on the grounds, you find replica of the first chapel built in Fatima, Portugal.


One thing that saddened me over the years was watching the wearing down of the site. The basilica is in need of repair. Some of the statues and smallers shrines on the ground have been damaged due to weather - it is outside Buffalo, after all - and even, sadly, vandals.
So the Shrine is starting a fundraising effort to begin repairs.

The address is:
Our Lady of Fatima Shrine
1023 Swann Road
PO Box 167
Youngstown, N.Y. 14174-0167
Labels: shrine