Stations for Life
There was no snow or rain. Temperatures were brisk - mid 40s - but not biting. The sun was shining.
This year's Stations of the Cross in Reparation for Abortion was one of the largest in a long time - perhaps in part due to the good weather, and maybe also because of the policies of the current administration.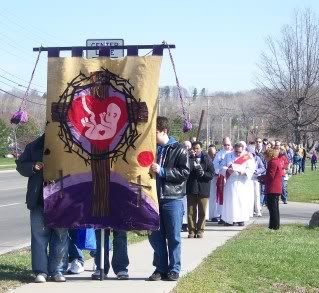 More than 200 people processed from McQuaid Jesuit High School to a doctor's office where abortion are performed. We were led by ten priests and deacons, and a representative of the Sisters of St. Joseph of Rochester.
Before the march, there was a prayer service in the high school's packed chapel. Students at the school have a tradition of praying a rosary twice a week outside the doctor's office as well - and an invitation was issued to all of us to join them.
The emphasis today was on youth - with many young people in evidence at the service and march. Several of the young people spoke briefly about taking part in the March for Life in Washington earlier this year, describing it as an incredible experience.
Then we marched, praying the stations.
We prayed for the victims of abortion - the babies, the women, the fathers, their families, society - and for the doctor and his staff in the office.
We prayed for victims of other forms of violence - euthanasia, economic exploitation, war, neglect, injustice, the death penalty.
We prayed for seniors, prisoners, the poor, pro-lifers dealing with discouragement, the unwanted, those we view as enemies, and so many more.
As we prayed, a few people drove by and honked their horns. Amen.
But some also blared their horns. I saw one woman give us - including the children - the finger. One man slowed down and began yelling as he drove past something that sounded like, "Your God is an abortion."
I prayed for all of them.
And I prayed for the violence in myself. I have also helped to nail Him to the Cross by my words, actions, and thoughts. Forgive me Lord.
Labels: pro-life