Praying for Life - Dealing with a Dilemma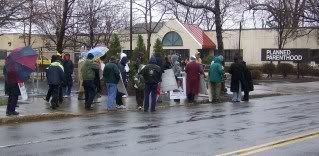 I went down to Planned Parenthood this morning for the pro-life prayer rally to be lead by Pastor Luke Robinson.

It was a cold, miserable day - 35 with mixed rain and snow, and a biting wind.

About 25 pro-lifers braved the weather to offer prayers and hymns, and to hear a few words from Pastor Robinson.

The last time we gathered there - when the weather was nicer - we had more than 100 people taking part in a prayer vigil. There were about 30 counter-protesters.

This time, the other side was represented by ...
(Hear any crickets?)
Pastor Robinson proclaimed "We are here, oh Lord, for every baby that is saved by people who stand (outside the clinics)."
He offered prayers not only for the victims of abortion - the women and the babies killed -but also the victims of violence, including those who died in the recent nursing home shooting, and the killing Friday of 13 people at a center for new immigrants in Binghamton.
He also prayed that the politicians who support abortion, the personnel in the clinics might themselves experience the mental anguish, the trouble sleep, the problems that some many women who have had abortions face so that they might begin to understand what they are doing and turn from the killing of babies.
And he asked God to shut down this Planned Parenthood clinic, and vowed that he would return to join us for a celebration when it does close.
Amen.
I enjoyed the prayers. I was happy to say a rosary with some of the the other people there.
But I left saddened, and thinking.
I stopped taking pictures when a couple of the people brought out the aborted baby pictures. I prayed from that point on with my eyes closed or averted.
I don't like such images. They offend me on many levels.
The offend me because of the violence they reveal, the horrible things done to the poor babies.
They offend me because they are so horrible. I don't like graphic images (I've even been known to walk out of or turn off some movies).
But they also offend me because they are violent, and I don't want to be part of violence.
Yes, I know there are arguments for them. They do reveal what an abortion is like - and some people need images to help shock them into thinking about what is being done. People too often hide from reality, they seek to escape it - after all, isn't abortion on one level just another way to avoid dealing with a reality one does not want to face? So such graphic images may help to get some people to turn.
But in confronting, isn't there a danger that we are closing minds? Aren't we making it harder for others to convert?
As I watched vehicles go by, I thought about the children in some of them. As a parent I would have been angry had someone showed such things to my daughters when they were young.
And, sadly, when I have seen people display such images, there seems to be such anger on some of their faces.
Is this the most loving thing we can do?
I'm sure that there are people who will argue that it is. Sometimes you need to be hard to break through closed minds. We are trying to save lives and souls.
Indeed, I could easily fall into using such tactics myself -a part of myself that I don't like. I can come across as such an angry guy.
But I battle that tendency in myself, and I believe it is the wrong approach in the fight for life.
In my own stumbling way, I want to try to witness to God's love in all that I do and say.
Labels: abortion, Planned Parenthood, pro-life