No Father Groeschel - but a fine time
Father Benedict Groeschel was supposed to celebrate a Mass and talk with the Rochester's Secular Franciscans - and lead a Lenten mission at a parish - but he took ill Saturday, was briefly hospitalized, and is now home resting under doctor's orders.
In his stead, Father Terry celebrated Mass with us, and Sisters Cecelia and Monica gave talks.
Fr. Terry's homily was filled with humor. One of his major points was that we all tend to cling to the past - past regrets, past hurts, past pain - and that these can hold us back. "God doesn't live in the past, so why should we?"
Sister Cecelia - of a seemingly perpetual smile - briefly talked about the history of the Franciscan Sisters of the Renewal, and shared some spiritual reflections about forgiveness, the need for silence and prayer, and the need for renewal of ourselves before we can renew the world.
She observed that prayer is going to be the force behind our preaching of the Gospel. Preaching is more than just words: We preach by how we live. It's those people who really live what they believe who inspire us.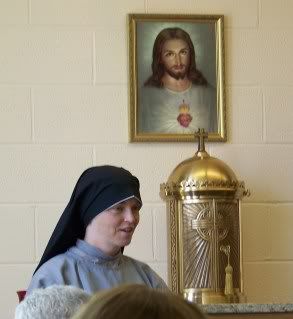 Sister Monica humorously described her own path to her vocation - a path marked by falling away from the faith and great success in the business world, but of gradually being drawn back by a hunger, and a Secular Franciscan father who preached by his own life and example and helped her find her way.
She noted that she had been checking out various congregations, but had not heard of the Franciscan Sisters of the Renewal until 2004. Father Groeschel had a serious accident that year in Florida, and her father's house had become the base camp for the Friars in Florida while Father Groeschel was recovering. In a phone conversation her father mentioned that a women's congregation had also started. She visited them, and entered. She later told her story to Father Groeschel, who jokingly said of her, "I am the fruit of a very bad thing that happened to him."
It's ironic that another bad thing - illness - happening to Father Groeschel brought these sisters and Father Terry to us, but it made for a interesting and enriching afternoon. And the good sisters would sure be great for recruiting vocations!