Franciscan Day of Recollection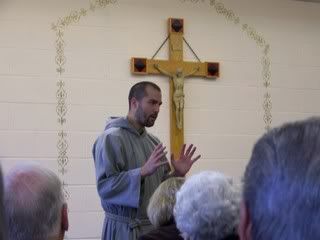 November 8 - the feast day of that great Franciscan Doctor of the Church, Duns Scotus - the two local Secular Franciscan groups gathered at St. Leo's Church in Hilton for a Day of Recollection.
The Day was led by Father Tony Baetzold, a member of the Franciscan Friars of the Renewal - and a former resident of Hilton. He mixed humor, stories, and some challenging observations in his presentations and homily.
The Day included Mass, talks, Veneration, Confessions, and Benediction, as well as socializing. (Father Tony joked that because it was the feast day of Duns Scotus, we were permitted to eat cookies. I followed his advice, as did many of my fellow SFOs!)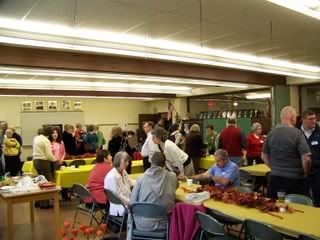 I had not had a good retreat or Day of Recollection in a long time. This Day reminded me of what I've been missing.
Father Tony offered much to think about in terms of spiritual life, the role of the Holy Spirit, the Franciscan way, and the theme for the Day: The dignity of the human person.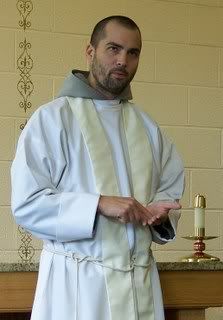 He said that we need to consider how we treat our enemies, and how we look at the poor - citing in the latter case the important of lepers for St. Francis' growth, and talking about Jesus' treatment of the woman with a hemorrhage treating her not as an outcast, but as a daughter.
He strongly urged the local Secular Franciscans to find an apostolate through which they could reach out to those in need - the poor, the elderly, those involved in abortion, etc.
As I noted earlier, Father Tony leavened his talks with humor and down-to-earth examples and saying. One of my favorites was his story of riding (in Franciscan robes!) a roller coaster with family, and then observing: "Spiritual life is like a roller coaster that you are on for the first time."
More specific to the Franciscans gathered there, he noted that in formation there are three essentials: Prayer, Community and Apostolate. He advised us to pursue all three, for they are like the three legs of a stool and you need all of them.
He also observed that, "Franciscan spirituality is a spirituality of humility."
Father Tony had more to say. There is much more that I could write.
I will be mulling this over for days to come.
Labels: Secular Franciscans