Stonewall Jackson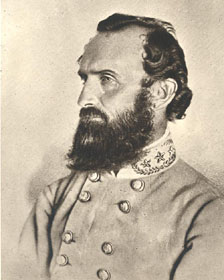 I've just finished a short military-oriented biography of Stonewall Jackson -
Stonewall Jackson
, by Donald Davis.
The book gives an overview of his life, and pays particular attention to him as a military leader.
I've always had a fondness for Stonewall. The book helped me to see some reasons why.
He was a devout man, devoted to his wife, fond of children, brave, with little regard for his own safety, or even with his appearance. And, of course, bearded.
But he was also demanding of himself and others, often too strict and severe, contentious, rubbed many fellow officers the wrong way, and somewhat quirky.
Sounds too familiar!