Update on Dad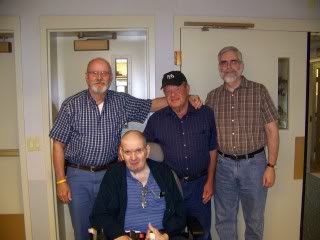 I went over with my father-in-law to visit Dad at the hospital. We spent about three hours there, with Frank (father-in-law) helping to keep the conversation going (he has lots of stories!).
Dad enjoyed the visit - he smiled broadly when he saw Frank walk in.
Uncle Jack (the fellow on the left in the picture above, which was taken two years ago) later called to find out how Dad was.
He and Dad (in the wheel chair) are the last two Strong males of their generation. My cousin Don (second from right above) and I (bearded fellow on the right) are two of the last Strong males of our generation.
Dad is still getting antibiotics to fight the pneumonia. It's not clear when he will go back to the home. Given the way hospitals work these days, he could go back tomorrow. Or it could be several days. We'll see.