40 Days - Midpoint Procession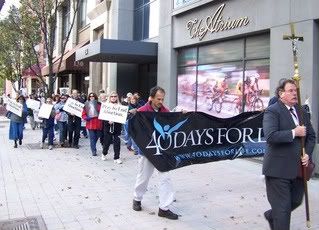 We will be holding a 40 Days Midpoint Procession this Saturday, October 17.
The pro-choicers will apparently be there.
We've received word that the pro-choice side has heard about the procession and will have a counter protest to greet us when we arrive at Planned Parenthood.
The last time they tried that, they managed to gather 25-30 people loudly chanting, while more that 100 pro-lifer's prayed quietly.
But thanks to their presence, the local media finally paid attention to us!
So local pro-lifers, even if you have not been able to take part in the 40 Days campaign thus far, it's important for you to be there this Saturday!
For Catholics, there will be a Mass at Our Lady of Victory Church, 200 Pleasant Street, at noon. The marchers will gather in the parking lot next to the church at 1. We will then silently process down to Pleasant to Main Street, along Main Street to Gibbs Street, then to Planned Parenthood, where we will pray.
Don't let the usual Rochester apathy keep you away. And don't let fear prevent you from showing up. The police will be there to prevent any problems. And think of the witness we can send through the local media.
WE NEED A SHOW OF PRO-LIFE RESOLVE!
Labels: 40 Days for Life