Fatima Shrine Visit
The Good-Looking-One and I went off to the Fatima Shrine near Buffalo yesterday.
They are renovating, so some areas were closed off.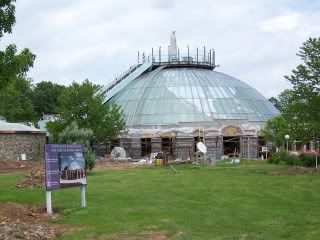 But it was still good to stroll the grounds, stop by familiar statues, say a few prayers. I bought a second finger rosary for my morning walks (I keep the other one in the car).
On the way home we stopped by Ridge Road Station - with one of the world's largest collection of Christmas- and Santa-related items (ah), then at a favorite diner for a veggie burger and onion rings. Mmm.
Sounds like a hot date? For us, it was a wonderful day.