Secular Franciscan Day of Recollection
It was a lovely day of recollection for Rochester's two Secular Franciscan Order groups. Father Anthony Baetzold, CFR, offering reflections and celebrating Mass, and Brother David Valenzuela, a CFR seminarian, providing music for the Mass and Eucharistic adoration, and telling about his own path to joining the Gray Friars (it involved four snoring Friars!)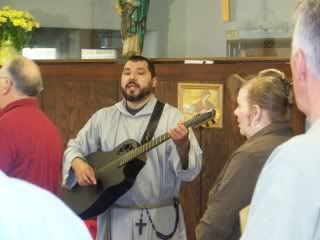 And yes church music fans, the CFR-led Mass featured GUITAR music.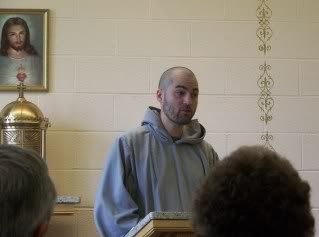 Father Anthony noted that at the meeting in Assisi, Franciscans - including Secular Franciscans - were told to go back to their roots and to be not only witnesses thought their actions, the way they live and the way they dress - and the friars were told they should go back to wearing their habits in public! - but to actively proclaim the Good News.
"Even for the lay members it's not enough to be a witness," he said. "We should be ready to give an answer ... If people don't hear, how will they come to believe?"
He noted that we live in a post-Christian era, an era that is in many ways as pagan as the one the in which the original disciples lived, and so our call as Franciscans is the similar to the one those early disciples had: To preach.
"What is our call? To proclaim the Good News."
Pretty challenging.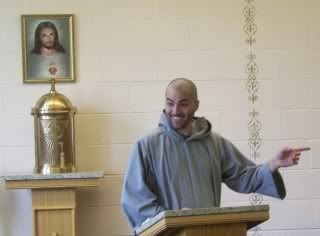 Of course, the talks were also full of humor - as in the story of the snoring Franciscans.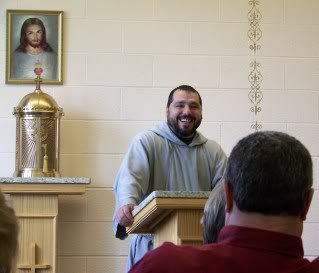 Brother David explained that he had gone on a pilgrimage to discern his vocation (he was considering the Capuchins), and the first time he encountered Gray Friars was in Medjugorje during a long, long talk - he suggested the priest who was talking was using a calendar instead of a clock. After the talk went on for some time Brother David and his companions began to hear loud snoring from the back of the crowded room. When he went back to investigate, he found four Gray Friars asleep, snoring. But after he woke them and they hurried off, and even though he'd never even heard of them before, he realized that this was the order in which he belonged!
I have much to mull over from the day. Think I'll sleep on it, though.