Maggie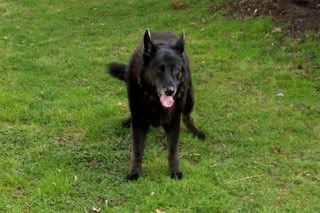 The end is almost here for my beloved Maggie.
It's been coming for a while. To be honest, I was afraid that she wouldn't survive last summer. She was having a harder and harder time walking. Her hind legs and hips were going - a problem with older German Shepherds (she's a Shepherd/Labrador mix). She's 14 +.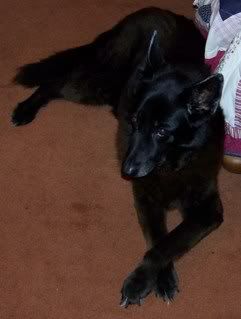 Yet she made it through summer, to Thanksgiving, to Christmas, and into the New Year. But getting worse. And starting to have incontinence problems.
Today, she could barely walk. I took her out for a short morning walk. She kept falling. She stumbled through the house. When I came home, I had to carry her out to the yard, then back in. She ate, stumbled into the living room, fell down, got up, moved a little further, fell again.
She's resting now.
Maggie was a City Pound rescue. She was about one year old when I spotted her in a pen there in the spring of 1995. Beautiful, and so gentle. She had me when she licked my hand through the bars. My wife was grumbling about getting a dog, but when I took her to meet Maggie, she melted.
Maggie's always been a good dog, dealing with cats and children with patience, but barking mightily whenever any stranger approached the house. And the Lab in her loved water. We even got her a kiddie pool for the yard . She used to jump in, lap up some water, run around the yard, then jump in again.
Two summers ago she would gingerly get in the pool. Last summer, we didn't put it out. She was no longer capable of getting in.
Maggie used to wait each day for me to come home. She'd hear my car down the street and head to the door, all excited. Now, we can walk in the house and she won't hear or notice us until we walk right up to her, and sometimes not until we pet her.
I've been praying that she would simply fall asleep one day and not wake up.
I fear that will not be the case.
Her limp is so bad. Maybe it was the icy conditions we've had lately. Maybe something broke or is dislocated. Maybe something's just strained. I don't know. She doesn't seem to be in pain. She eats. She just has a hard time walking.
We used to take long walks in the morning and at night all around the neighborhood. We'd go out in the yard and chase each other. In the winter, I used to toss snowballs in the air and she jump up and catch them. And sometimes I took her for rides in the car, her head out the window as we'd head to a park or a wooded area for her to wander around in and sniff. Our trips often ended with ice cream cones - one for each of us.
I'm giving her one more night. Maybe by tomorrow the the leg will be a bit better. Maybe she has a few days or weeks or months more in her.
Or maybe tomorrow she will need to be carried out to the yard and back in again.
If so, after school tomorrow I'll call the vet.
This night is more for me than for her, I know. I hope she simply falls asleep.
Maybe she'd like some ice cream now.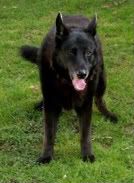 Labels: Maggie