40 Days for Life frightens Planned Parenthood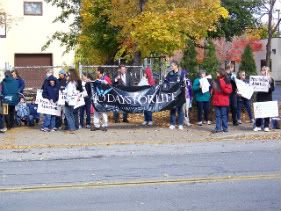 Planned Parenthood, the billion dollar abortion business, is apparently afraid of the 40 Days for Life Campaign.
That despite the fact that the most pro-abortion President has been elected promising all sorts of anti-Christmas goodies for the pro-abortion cabal.
David Bereit, 40 Days' National Campaign Director, reports that PP has put out a desperate fund-raising letter - what did they do with that billion they made from killing babies??? - with the following on the envelope:
"Relentless Anti-Choice Extremists: They're coming after our organization with everything they've got! Help us fight their post-election challenges!"
Bereit then notes -
Cecile Richards, president of Planned Parenthood, clearly spells it out: "Now, here's what worries us the most…"
Then she specifically identifies 40 Days for Life as one of the greatest threats to the abortion chain's business.
Richard writes,

"Planned Parenthood is under attack,"

explaining the setbacks their staff and customers experienced when,

"from September 24 to November 2, 2008 a coalition of anti-choice groups promoted a '40 Days' campaign all across America, including 24/7 prayer vigils outside Planned Parenthood offices and health centers."
She concludes the letter by saying, "the hard-edged, well-funded groups coming after Planned Parenthood are playing for keeps," while telling abortion supporters, "I only hope you realize how urgently we need you."
Gee. I was one of those folks. I didn't see a lot of well-funded activities - just a volunteer group of committed, life-loving, prayer-filled people.
But then, Planned Parenthood has always been fast and loose when it comes to the truth.
So here's my response to this plea: Instead of giving to Planned Parenthood, give to pro-life women's centers, or to the 40 Days campaign.
40 Days will hold it's spring campaign February 25 - April 5. If there is a local effort, join it. If not, find some fellow pro-lifers and organize one.
Let's show those troubled and frightened souls at Planned Parenthood - and the women going there - a message of love.
Not to frighten them even more, but to convert and save them, and to save lives.