Daughter graduates (the last one)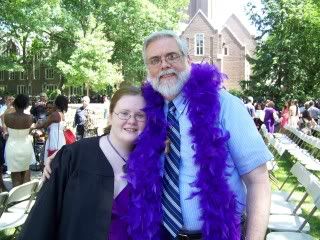 Friday we were on the campus of Wellesley College for the 10th year in a row - though perhaps for the last time.

Youngest daughter was graduating - following in the footsteps of her oldest sister (Class of 2005).

Typical of youngest daughter's quiet, independent ways, she did not tell us that she was graduating with honors, including as a member of Phi Beta Kappa!

She is home for a week, then will be returning to the college, which hired her. A degree - and a job!

I'm so proud of her.

I'm also sad.

She already has an rented room, and will be taking her bedroom furniture with her when she leaves next Saturday.

No more trips to the campus to drop off or pick up a daughter.

And ... as of next Saturday, we will officially be empty nesters.