A Prayerful March for Life
We held our March for life to Planned Parenthood this afternoon.
It was prayer and peaceful. But then, there were no pro-choice counter-demonstrators to provide some of their usual forms of violence.
The march followed noon Mass at Our Lady of Victory Church. We processed silently and prayerfully through downtown Rochester to Planned Parenthood.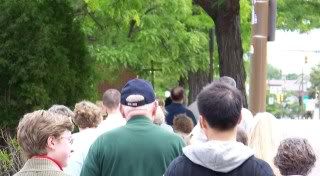 We got a few honked horns, waves and thumbs up along the way - including from a large group of motorcyclists rumbling through downtown. Hmm. Bikers for Life?
At Planned Parenthood, we said a rosary, and prayed for the Pope's intentions.

This march, I purposely did not slip into my reporter mode and limited my picture taking, focusing instead on prayer.
Sadly, only about 40 people took apart, and only one priest or deacon that I recognized - Father Tony Mugavero. That's way below what we've had in the past when the weather was bad. One person speculated that maybe it was too nice a day! Or that people had other events - like a funeral at his parish that prevented his pastor from joining us.
In the back of my mind, I also wondered if the murder of Dr. Tiller might have made some people nervous about pro-choice violence.
Whatever the reason, we were there and we prayed for life, for the women faced with hard choices and fear, for our nation, and for ourselves.
Prayer and love are what will fuel our fight for life.