Vigil for Life at the Cathedral
Unable to make it to Washington for the March for Life, I went to Sacred Heart Cathedral tonight for a "Silent Vigil in Reparation for Roe v. Wade."
About 50 people were there (many other area pro-lifers were able to go to Washington, and some were at a protest at the Unitarian Church). My wife was at the Cathedral, as was Bishop Matthew Clark, still showing effects from his surgery last year.
We sat in silence in Eucharistic adoration. Some read prayer books. Some said rosaries. Some simply sat. The only sound was the trickling of water in the baptismal pool.
It was so peaceful that I decided not to take a picture in the church proper; I did not want to break the mood. So the only image of the night was of a table displaying pro-life items.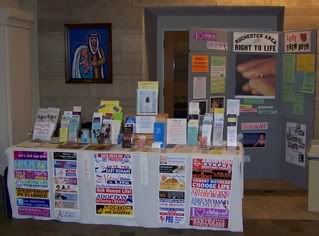 As I sat there, I prayed for Anthony, the unborn child I have spiritually adopted for the next nine months. I prayed for all the unborn children at risk of losing their lives, and for their mothers and fathers that they will find the strength and support they need.

We concluded with St. Francis' s Prayer for Peace.
On the way home, I listened to an EWTN report about the March. So many young people. So full of enthusiasm and energy. The election has provided a spur to the movement.
I pray tonight for the conversion of Barack Obama, and the healing of our nation.
Labels: Bishop Clark, pro-life